Can't find what you're looking for? Give us a call on 01302 369700
Premier Partnership has once again passed its external audit conducted by City & Guilds. The audit is aimed at assessing Premier's adherence to the highest standards while delivering a variety of City & Guilds qualifications to learners. This year's results reflect the dedication, creativity, and professionalism of the Premier team, who strive to ensure that learners achieve remarkable success in their educational journey.
Premier Partnership offers a comprehensive range of City & Guilds qualifications to its learners, and their commitment to quality has translated into consistently high pass rates. Last year, Premier's learners achieved an impressive 100% pass rate, a testament to the dedication to nurturing students' potential and academic growth.
The external audit plays a pivotal role in verifying that Premier Partnership runs its educational programmes and qualifications with utmost accuracy and compliance. It ensures that learners receive the necessary support throughout their learning experience and that all documentation related to their academic progress is complete and accurate. Additionally, the auditors thoroughly assess Premier's internal evaluation processes to ensure they align with the stringent standards set by City & Guilds.
"We are thrilled to announce that Premier Partnership has yet again received outstanding results from the City & Guilds external audit," said Rebecca Dyson, Qualifications Operational Support and lead on the audit, "This achievement is a testament to the efforts of our team, who go above and beyond to provide top-notch education and support to our learners. We take immense pride in maintaining exceptional standards, and the positive feedback from the auditors further reinforces our commitment to excellence."
Moreover, the audit report conveyed the auditors' complete satisfaction with Premier Partnership as a centre for City & Guilds qualifications. Their approval paves the way for Premier to continue its vital role in helping learners achieve their educational aspirations.
Premier Partnership remains committed in its mission to empower learners with knowledge and skills that will undoubtedly make a significant difference in their lives and careers.
Jon Knight
Marketing Coordinator
You might also be interested in
Unlock Funding for Your Training Needs with Premier Partnership!
Premier Partnership are excited to announce that we are now a provider on the SYMCA Skills Bank Framework, dedicated to supporting business growth and investing in skills across the South Yorkshire region.
Jon Knight
Marketing Executive
New Evaluations Initiative Launched
At Premier Partnership, we continuously strive to enhance the quality of our training programmes and ensure they meet the unique needs of our delegates and their employers. Delegate feedback and insights are invaluable in helping us achieve this goal.
Jon Knight
Marketing Coordinator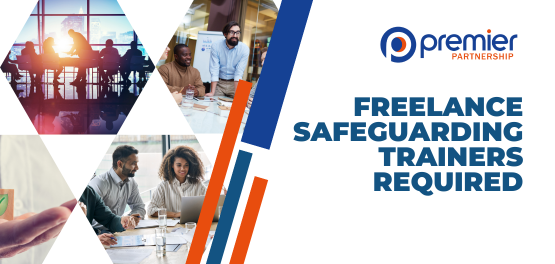 Freelance Safeguarding Trainers Reqiured
We have an exciting training role available for Freelance Safeguarding Trainers to work on an AD HOC basis delivering the following either virtually or face to face in Yorkshire and London.
Jon Knight
Marketing Coordinator