Can't find what you're looking for? Give us a call on 01302 369700
Double Award Nomination for Premier
Premier Partnership have been shortlisted as finalists in not just one, but TWO categories for the upcoming Doncaster Chamber Business Awards.
The biggest ceremony of its kind in the entire region, the Doncaster Business Awards proves to be a dependable highlight in the local calendar year after year. It is always a triumphant evening of glitz, glamour, live entertainment and victorious celebration, as well as an opportunity to reflect upon all that's been achieved by the city's business communities over the past 12 months.
The finalists for each of these categories were carefully selected following a rigorous judging process, whereby their entry forms (of which there was a record number this year) were scored by a panel of experts. Next, they will be heading into an interview stage to whittle them down further, with the overall winner then be revealed on the night of the Business Awards itself, which this year falls on Thursday the 7th of December.
Our exceptional dedication and hard work have earned us a place among the finalists for the following categories:
 🏆 **Customer Service of the Year**
In this category, we stand as a testament to our unwavering commitment to delivering top-notch customer service. Our clients are at the heart of everything we do, and this recognition reaffirms our dedication to excellence in customer care.
🚀 **Innovator of the Year**
Being recognised as Innovator of the Year reflects our pursuit of cutting-edge technological advancements and shows we are continuously pushing the boundaries and setting new industry standards with our innovative solutions.
 These nominations would not have been possible without the remarkable efforts and expertise of every member of our Premier Partnership family.
For a full list of categories and nominees visit: Finalists Announced for the 2023 Doncaster Business Awards, After Chamber Receives Record Number of Entries - Doncaster Chamber (doncaster-chamber.co.uk)
Jon Knight
Marketing Coordinator
You might also be interested in
Unlock Funding for Your Training Needs with Premier Partnership!
Premier Partnership are excited to announce that we are now a provider on the SYMCA Skills Bank Framework, dedicated to supporting business growth and investing in skills across the South Yorkshire region.
Jon Knight
Marketing Executive
New Evaluations Initiative Launched
At Premier Partnership, we continuously strive to enhance the quality of our training programmes and ensure they meet the unique needs of our delegates and their employers. Delegate feedback and insights are invaluable in helping us achieve this goal.
Jon Knight
Marketing Coordinator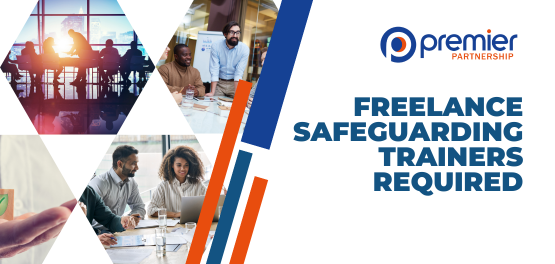 Freelance Safeguarding Trainers Reqiured
We have an exciting training role available for Freelance Safeguarding Trainers to work on an AD HOC basis delivering the following either virtually or face to face in Yorkshire and London.
Jon Knight
Marketing Coordinator